5 Home Designer Tips To Wake Up Your Window
Navigation
Living in a home is the biggest part of everyone's life. We end up spending most of our time at home. Our home feels like Eden after a tiring day in the office or a gruelling workout session in the gym.
Each aspect of one's house is highly valuable for them in offering a good living. After all, the ceilings, doors, passages and windows are inseparable parts of our homes. Naturally, beautifying every corner of our residence will be the best way of assuring added spice to our otherwise bland living.
In this blog, we shall discuss what a windows space is, why it is important in everyone's life, how to go about waking up one's windows space and finally we'll also take a look at the tips and reminders on waking up your windows space.
What is windows space? And why does it matter?
Well, the term "windows space" is very happening as it is a highly searched-for phrase in interior designing.
It has largely to do with blinds, awnings, persiennes, shades, curtains etc for windows. Basically, it is something about making the best use of the space at and around your home windows.
It encompasses the overall idea of making your home windows look wonderful and attractive along with bringing its share of features.
Now that you have figured it out already, it is still important for you to know why waking up your windows space is important. Below are some of the indispensable reasons why you want to make the best of your windows space.
First of all, curtains can filter the outside vision of your home. Something happening outside your home can easily distract you from your work-from-home routine, daily household chores, studies and everything demanding your keen concentration.
Secondly, home is meant to offer privacy. Spending some special moments with your loved ones should not attract the attention of outside onlookers, should it? Curtains offer you privacy.
Thirdly, choosing the right home decor is incomplete without choosing a suitable embellishment for your windows too.
All in all, windows space can offer uncompromised utilities along with adding great beauty to your home.
5 Tips to wake up your windows space?
As by now you are aware of what waking up your windows space is and what makes it so important for you to go for the best windows space idea, we can finally go ahead with finding the right method of choosing the best windows space for you.
Below are some considerations to be mindful of that will help you make the right move in the direction.
1- Go by your needs
When opting for a windows space solution, the first thing to go about searching is for the right set of curtains. Blinds are available in a large variety of options, all differing ever slightly with the utilities they offer.
It is worth bearing in mind that aesthetics is an integral part of home furnishing and designing. Going for the best designs, colour combinations, embroidery or so on are some aspects that you want to consider if good looks matter to you the most.
When it comes to utility, the thicker the fabric the curtains are made up of, the better they are at blocking sunlight. Thicker fabrics also tend to be heavy enough not to be swayed by wind currents.
It is undeniably true that many aspects go hand in hand with each other. For instance, a bright-coloured set of curtains will not only do their best in partially blocking sunlight but also look very vibrant during a glaring day. Dark counterparts are good at blacking out outdoor light.
Blocking sunlight depends on the colour and fabric, its thickness, pleats etc of the curtains. All you need to bear in mind is the distinction between solid curtains and blackouts.
2- Know your options
Choosing interiors for your home that suit it the best can be perplexing owing to the multiplicity of options on the market. Knowing the different options you have at hand and where all they differ will simplify the choice for you.
Apart from the sizes and colours, blinds and screens are available in different styles and design patterns. Pinch pleated curtains, for example, have rather accentuated pleats. The permanently raised pleats add a good amount of bulk to the curtains and also work more effectively in blocking sunlight due to the curtain's thus created criss-cross patterns.
Inverted pinch pleats are also trending in the market. They give a reverse look of a regular pinch pleat curtain; however, their glossiness and clean design on one side help someone discern that they are purposefully reversed. Their sewed part is facing away from the window, a non-conventional look and a truly revolutionary one.
Sheers, non-pleated curtains may have a dull look but they actually have a distinct sense of appeal for many. They are also highly manageable for easy sliding on windows for covering and uncovering them.
Pencil pleated curtains are minimally pronounced in their pleats and work midway of sheers and pinch pleat curtains.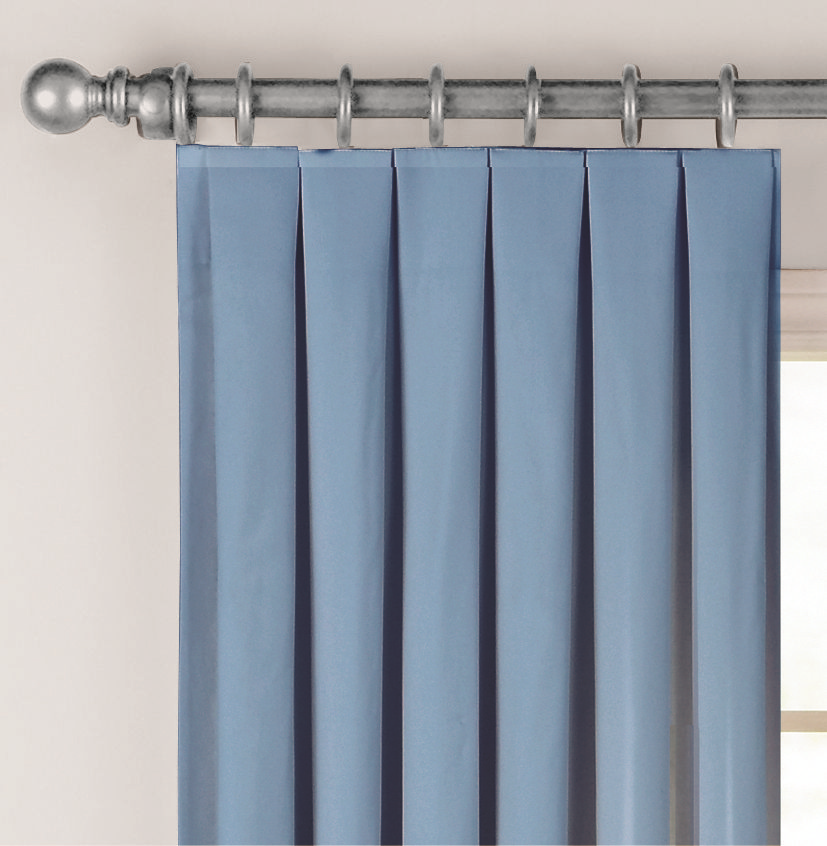 Image of a box pleat curtain
Box pleat curtains have square-shaped pleats. The design pattern does not subside with use, washing etc. It also gives the curtains a uniform wavey look for an unquestionable design appeal.
Curtains usually but not exclusively form part of your home interior. Outdoor curtains serve the same purpose of beautification of your home, shielding external view, offering privacy, blocking sunlight etc. However, they are meant for patios and decks.
They are specially designed to look cool with small, outdoor enclosers that rely mainly on sunlight for their source of light. They are made up of translucent garments that are still great at offering privacy.
Pulley curtains are great at saving you time and effort in opening and closing them. All you need is a simple pull of one end of a line or the other to do your task. In commercial settings, they are an indispensable choice for their simplicity in operation.
See-through adjustable curtains are best for uncompromised privacy while allowing a view of the other side. The closely-placed segments can allow easy access for someone to open any two segments to take a quick view of the outside world.
See-through adjustable curtains are mechanical, i.e. pulley-operated for added convenience. They are, like other pulley curtains, indispensable in commercial settings.
3- Opt for an overall conforming design
Waking up the windows space is something you will probably do once in years. Besides, once a decision is made in choosing the curtains, you may not be able to do anything about it later. After all, screens on your windows do not offer a great resale value.
Funnelling down from the utility, sizes and so on, choosing the right design will be the biggest deciding factor for you.
As pointed above, your choice of colour in curtains will also affect how lit your daytime room will be in the absence of indoor lights. Lighter-coloured blinds allow more light to seep in for sure; however, if you want to balance between the colour and sunlight, then opting for a thicker fabric can do the trick.
Hence, those who wish to keep up the vibrance of the house and go for a matching design and colour combination can choose the thickness of the fabric wisely.
Some curtains can also suit the best to the patterning of your house. Intricate home layouts go well with blinds that overlay equally complex designs.
Extra size curtains are known to go well with plain and minimally designed home layouts. The elongated sizes fit along with rustic, modern as well as picturesque homes alike.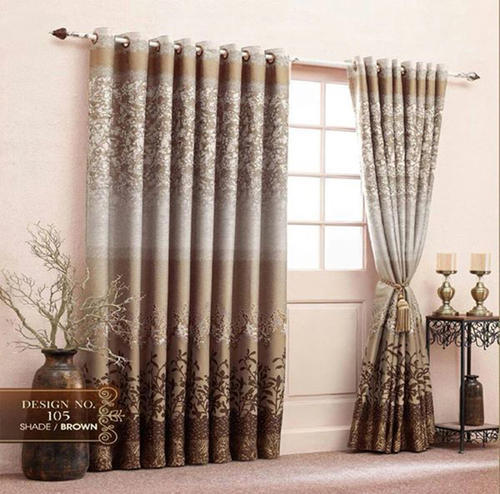 Image of a pair of Jacquard curtains
Jacquard pleated curtains and sheers can match plain as well as variegated walls alike. Their perforated patterns and intricate designs make them highly suitable for wallpapers as well.
4- Know the different makers and their characteristics
The designing industry is rampant as with any other into aesthetics. Home designers have defined and redefined standards that govern the whole market.
Many firms have their own distinctive features that make them the undeniable choice for most of us. No wonder industries that are seemingly at the baseline also have fierce competition and have only a few countable names to vouch for.
TWOPAGES Curtains is one of the most reputable designers on the market that has gained enviable trust. As with any trusted designer and supplier of interior designer items, TWOPAGES offers a myriad of options that will actually baffle you.
The brand allows an easy selection between solid and light-permeating curtains. Velvet, polyester cotton, cotton linen, polyester linen are some of the options under its solid curtain plethora. You also have a range of outdoor curtains to choose from. They occupy very little space of your home indoors.
Another reputable name on the market is Isabella Curtains. The brand is very sought-after for its number of iterations available at a time. Isabella Curtains swears by its unique designs that are purposefully optimised for utilities as well.
The embroidery and knitted patterns of Isabella Curtains make for the biggest attraction the brand has to offer. You can also find some highly eye-catching printed designs in the firm's repository.
Yet another name that surfaces online and is found on shelves of supermarkets is Liz Curtains. The brand is also the most frequented for shopping awnings and curtains. With the inception by Liz Claiborne, the US firm predominantly is looked at for its unrivalled aesthetics.
You can find some of the most attractive designs that are set to trend in the market. Multicolour blinds and translucent sheers are usually readily available on shelves or for doorstep delivery.
5- Other features that you cannot overlook
Now we have finally factored everything that amounts to the most suitable set of curtains for your home, there may still be some factors to consider that will help you make a sound decision really.
Blinds and curtains of any taste and feel can get dirty albeit with the passage of time. Outdoor curtains are the most prone to dirt-piling; obviously due to their more ready exposure to dirt and dust.
Nevertheless, indoor curtains can also look muddy in a few months. Smudges from unclean palms, dust circulating in the air and a lot more can cause them to lose their charm over some time.
Not all types of curtains are highly washable and some need an extra get-up-and-go for thorough cleaning. Besides, not all types of blinds are machine-washable either. Some may just need soaking in detergent and a little bit of brushing; while others, especially the velvety ones, need deep cleaning.
Translucent curtains are easy at lodging dust particles due to their perforated design and, needless to say, they are the most prone to damage.
Mechanical, pulley-operated curtains may offer a great amount of convenience in their use but can be equally difficult to disassemble for washing.
The see-through adjustable curtains can be the trickiest to wash due to their segmented nature. Besides, there is an ever-lingering fear of metal parts dislodging from the assemblage.
Tips and reminders for waking up your windows space
You can start your search by taking your needs for curtains into consideration. By knowing the options on the table, you can then make a move in choosing the right type of curtains. When choosing the design, colour etc, you can find the most suitable option that runs in conformity with the house layout. Knowing about the curtain manufacturers on the market and the options they offer can simplify your choice manifold. And finally, washability and durability are some factors you cannot disregard.
Conclusion
The article guided you with everything concerning windows space. It shed light on what windows space is and shared five insightful tips on how to wake it up in the best possible way. In the end, the tips and reminder section narrows down some of the most important points of the whole article that you can use as a quick reference.
Call-to-action
Please contact us today and get a streamlined solution for finding the most suitable curtains for your home, office or outdoor patio. We offer a one-point solution for all your windows space needs. Our easy sorting menu helps you start your search with your budget, brand or type of curtains.
Read More
---