How to Choose Faux Linen Curtains for Your Home
Navigation
Curtains set the mood of a room, from casual, easy to bold, dramatic. Your curtains give your room presence. Linen hangs beautifully and stays smooth and full over time. Subtle neutrals or bold patterns bring something special only your room can have.
The type and style of curtains you choose depend on what you want to do with your window treatments. Consider the feel of the room. Do you want them to make the primary design statement in the room? Or do you want them to be a backdrop and compliment the room's décor?You have several choices about the: type of header, color, hardware, and fabric weight. Each of these choices makes a great deal of difference in the appearance of your window décor.
Do you want an elegant look? Or a more casual-chic look? The choice of drapery makes a difference in the finished look of your window treatment.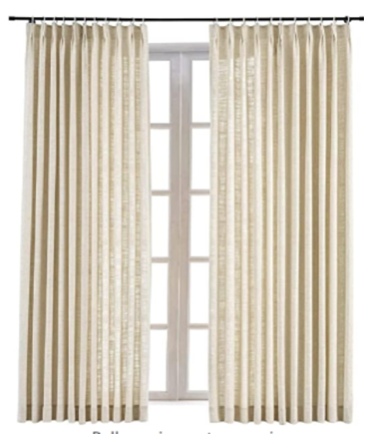 Natural linen drapes have an appealing look due to their texture and weave. They also have drawbacks.
Faux linen curtains are functional and make an impact on your space. Linen has always been popular for home furnishings. It never goes out of style; it has many unique benefits. The texture and weave give a unique look to your furnishings.
TWOPAGESCurtains - Pinch Pleat Darkening Drapes Faux Linen Curtains Drapery Panel - Beige White
What are Faux Linen Curtains, and Why Does it Matter?
Linen evokes comfort and luxury. Linen is a classic fabric, especially with curtains. Linen curtains drape beautifully. They bring a fabulous look to any room they hang. Linen has a crisp, clean appeal, dyed or natural color. Linen is a long-lasting fabric.
Linen can make a room appear brighter while still offering privacy. The natural weave lets in plenty of fresh air when the curtains are closed. Linen drapes provide insulation and result in cost savings.
Faux Linen vs. Natural Linen Curtains
The natural weave of linen curtains brings an attractive texture to the room. It appeals through its clean lines and crisp look. The look of linen complements décors of any type.
Unfortunately, there are drawbacks to natural linen curtains. It wrinkles easily, and it does not hold its shape. Also, natural linen drapes must be dry cleaned.
Faux linen curtains look and have the appeal of natural linen. The texture and weave look very similar to natural linen.
Unlike natural linen, faux linen drapes are easy to maintain. Polyester faux linen curtains are durable and drape well. They look just as beautiful as natural linen curtains.
TWOPAGESCurtains Extra Long Curtain, 240 Inch Long Essential Darkening Thermal Insulated Curtains Blackout Window Drape - 100% Polyester - Features: Large long, sold per single panel. Bronze grommet top. Multi-Function: Block out 85%-95% of light, noise reduction, energy saving, privacy protection. Effectively improve the sleeping environment and reduces stress.
Faux linen drapes come in several thicknesses and weights. You can choose from: lacy, embroidered sheers, linen-looking panels, and blackout curtains. Faux linen drapes have many options in style, design, and color available. For the office or the home, their attractive texture and look feel just right.
Custom-made drapes are available. You can select the header style: rod-pocket, tab-top, Grommet-top, and several pleated styles. Have them made to the length, weight, and width you want. Choose transparent sheers or light filtering. Heavy weight or blackout drapes are available.
Natural linen curtains echo the soft shades of natural flax. Faux linen drapes come in all colors. Faux linen curtains come in pastel shades to rich, vibrant colors. Faux linen curtains are available in many patterns, classic checks to oriental themes.
Arvin Olano recommends using twopagescurtains faux linen curtains in beige white, true white, or sand beige. Refer to his YouTube video "5 THINGS TO STOP DOING IN YOUR BEDROOM & WHAT TO DO INSTEAD | PART 2."
How to Choose the Right Curtains
Sill- and floor-length options work well for bedrooms, living areas, or offices. Café curtains, valances, and other classic kitchen window treatments are valid options.
Pleated Header Styles
A classic formal look of timeless elegance uses a pleated header style. To hang pleated header styles, attach rings or pins to the back of each pleat. The rings make them easy to open and close. If you open your drapes, often pleated styles are a great choice.
There are several pleated header styles; pencil pleat is one. They are named such because of the tight fabric bunching at the top when the curtain is open. Pencil pleats are well suited for old cottages or other classic interiors.
Tab Top Header Styles
For a casual look to your room, choose tab-top faux linen drapes. Thread the curtain rod through the tabs which extend above the top of the curtain panel. The loops of fabric over the pole are easily gathered. They look good in bedrooms, kitchens, and country décor. They give a wonderful informal look to a room.
Because tab tops drape well with faux linen material, this gives it an elegant look. This makes them suitable for formal settings.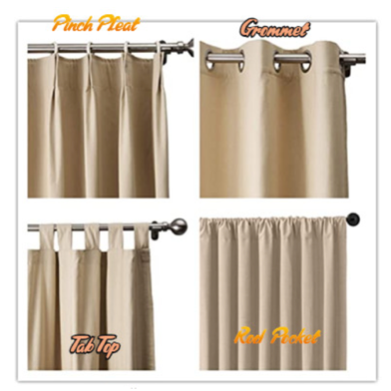 There are several variations of tab top header styles available. Options of tabs that tie at the top, twisted tabs, and alternating color tabs. Tab top curtains are hard to open and close because the material does not slide well along the rod.
Tabs that tie bring a delightful, cheery, and informal look to a room. They are ideal for a modern or Scandinavian-style interior.
Grommet Top Header Styles
For a more modern, chic look, grommet curtains are versatile. Rings or grommets are inserted into the top of the curtain; the rod slips through them easily. Rings can be chosen from a wide choice of colors, materials, and sizes. Opening and closing the curtains is easy because the grommets slide so well. Grommets add a simple elegance to: office décor, living rooms, bedrooms, and playrooms.
Rod-Pocket Header Styles
Casement panels or rod-pocket curtains give a complete, rich look to your drapery. Rod-pocket header styles are some of the most popular. They are often used when you do not expect to open and close the curtains often. Rods slip through the special channel sews to the back of the curtain.
Linen-look panels of medium weight or sheers work well with the rod-pocket style. Curtain hardware can be used to customize the look of your drapery. Match rods and finals to a design motif or color in the room.
Window Treatments as Primary Design Statement
Use window treatments to serve as a primary design statement. Go for a bold pattern to draw attention to the windows and to make a primary design statement. To enhance the bold print in your drapes, choose shades of pillows that bring out the colors in the curtains.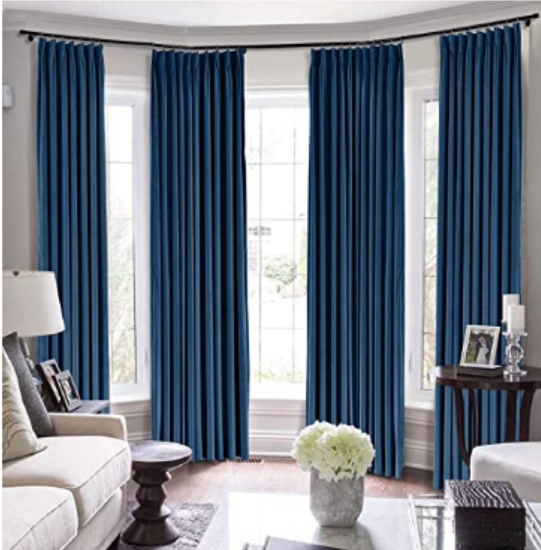 Printed curtains can turn a window area into a design element of its own. They can completely change a space. Printed curtains come in many options, from subtle designs to bold statements.
TWOPAGES Curtains Print Linen Curtain, 96 Inches Long Solid Room Darkening Rod Pocket Curtain - Blue
Polyester & Linen - Faux Linen. Natural skin-friendly, premium and heavyweight Faux Linen finish. Each curtain has a white, light-proof lining. Unique curtain header design, 4 hanging methods (rod pocket, back tab, with clips or hooks belt), you can hang them according to your preference.
Window Treatments as a Backdrop to Support Your Décor
Your window treatments can be a backdrop to a décor scheme. As a backdrop to an interior décor, choose a shade of solid color panels that highlight a secondary color in the room. Neutral colors like white, ivory, beige are light, airy, and blend into the space. Blues and greys make a bolder statement than neutral colors. They add some drama to your space.
To enhance solid-color drapes use patterned and decorative pillows. Pillow in complementary shades enhance window treatments.
Using Color, Textures, and Patterns to Decorate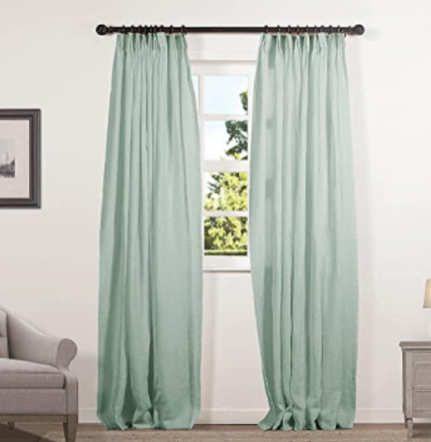 Adding accessories like throw pillows and carpets can enhance your drapery choice. They can either bring your window treatments to the fore or help them complement the room's décor.
To bring a dramatic look to your room:
Try mixing different patterns in cushions and accessories.
Try using the same colors for each design.
Build a layered look by using the same colors in floor coverings and tie the room together.
Choose styles and colors that appeal to your sense of beauty. This will personalize your interior décor. Getting the classic look of linen but the ease of care, choose faux linen fabrics. Faux linen pillow covers give an attractive easy to maintain décor.
To give some extra flair, add ruffles or pom-pom edges. Or add some attractive and creative tie-backs.
If you want more light to come in opt for sheer curtains. They let the sun filter through and billow beautifully with a breeze. Choose drapes that are lined for privacy.
Measuring the Window Area to Get the Right Curtains
How far above the window do you want your curtains to hang? Many people choose six inches above the window. Hanging your curtains as high as possible gives your room a sense of height.
Where do you want your curtains to end? Ending your curtains between the window-sill and the floor gives them a classic casual look. For a contemporary tailored style, land the hem flush to the floor.
You may want them to puddle gently on the floor for a couple of inches to give a casual chic look. For a dramatic or romantic look, let them puddle on the floor four or five inches.
Add four to six inches to your measurements on each side for the width. This will make sure the light is blocked out when the curtains are drawn. And when they are open, they are not blocking the window. Many companies are more than willing to make custom linen curtain sizes.
To enlarge small windows and make them look bigger, hang curtains an extra eight inches to each side. You will need to add this to your window measurement.
Use Curtain Hardware to Enhance your Design Statement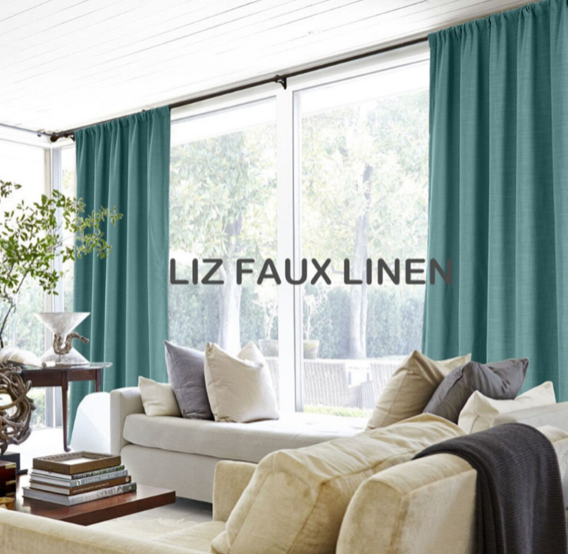 Choose a clean industrial shape with warm-aged finishes or a polished shine. Clean and straightforward designs help the drapes stand out. Designs with beautiful handiwork are best for solid curtains. You can coordinate your hardware finish with the color of your drapes. Matte finishes work well with warmer hued curtains.
For a layered look, use a double rod to hang a set of opaque panels over sheer panels. In this way, you can mix colors and patterns, textures with smooth sheers.
Tips and Reminders for Choosing Curtains for Your Home
Faux linen drapes are machine washable and easy to clean. They do not wrinkle like natural linen drapes.
Determine if you want the window treatment to stand out as a design element or a background for the room décor.
The header styles make a huge difference in how your drapes hang and appearance. Header styles: Pinch Pleated, Tab Top, Tied Tab Top, Twisted Tab Top, Rod-Pocket, Grommet.
The weight of your curtains determines how much light will be allowed in. Sheers let in the most light. Light filtering fabric allows some light to come in. Block out curtains block out all light.
How far above the window you hang your curtains makes a big difference in appearance. The higher they are, the longer your drapes look and lengthen not only the window but the room as well.
How low the drapes fall to the floor make different statements. Shorter curtains just below the window give a classic old-world vibe. Coming down just above the floor provides a contemporary tailored look. Puddling curtains on the floor two inches give a casual chic look. For a dramatic or romantic look, let them puddle on the floor four or five inches.
To enlarge small windows and make them look bigger, hang curtains an extra eight inches to each side.
Use textured pillows, accessories, and carpets to enhance the look you want to achieve.
TwoPages Curtains has a wide assortment of faux linen curtains for you to choose from. They have ready made: Extra long loft curtains in numerous color choices, Regal Fire retardant curtains, Sheer curtains, and many more options.
Review everything they have to offer in the form of headers, curtain styles, color choices, and fabrics.
Read More
---