The Available 12 Best Home Design Window Treatments
Navigation
Introduction
If you are one of a small number of people that prefer leaving the windows in their homes bare, well, this article may not apply to you. However, if you belong to an ever growing list of people looking for the right window treatments to add beauty, functionality, and much needed privacy to their homes, then by all means stick around.
This post will highlight 12 of the most widely used window covering options in the home design market. But that's not all, you will also get to know how to choose the best options for your home. While the decision to buy coverings for your interior windows is absolutely yours to make, you can be sure that this article will provide you with the knowledge needed for you to make an informed decision.
For the uninitiated, we begin this post with one of the most frequently asked home decor questions by homeowners. We begin by explaining exactly what it means to have window coverings in your home.
What is a Window Treatment?
In a nutshell, a window treatment is an interior decor that is designed for partially or completely covering the windows as well as window frames of your home. Typically, interior window coverings are categorized into three different options and these are: hard, soft, and layered window treatments.
Hard Window Treatment Options
Hard window treatment options are those window coverings that are made from hard or semi-hard materials such as vinyl or wood. There are many different types of hard interior window covering options, some of which are: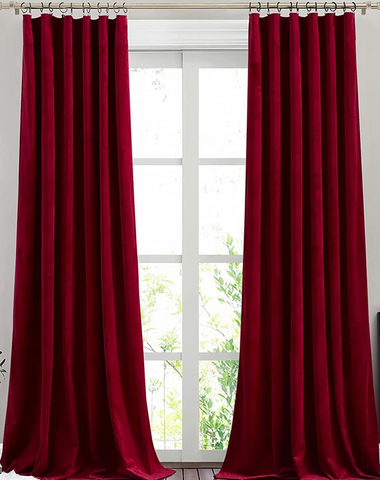 Blinds
Pleated Blinds: These are blinds that are made with pleated material that can cover an entire window up to the window sill. When this type of blind is pulled up it folds into a flat, monolithic whole gathered at the top end of the window frame and hidden from view. This type of blind also comes with a Top down - Bottom up design. Top down pleated blinds usually fold halfway down with the bottom half of the blind still covering the window. Bottom up pleated blinds can fold halfway up to expose the bottom half of the window while the top half of the blind covers the upper part of the window.
Venetian Blinds: Venetian blinds are usually made from plastic, metal, or wooden materials which are used to form the horizontal slats of the blinds. These blinds are often suspended by cords or tapes with the slats moving in unison and rotating horizontally by as much as 180 degrees in either direction when the venetian blind control cords are tugged.Venetian blind slats may come in a variety of width sizes ranging from 16 to 120 mm. However, 25 mm width slats are more commonly found in the home design market.
Vertical Blinds: Vertical blinds are made from materials such as: fabric, metal, PVC, S-curved slats, wood, and faux wood. Tugging on a control cord or using a switch will turn the slats vertically in either direction (side to side) to expose the widow. Vertical blinds are a fantastic covering solution for wide windows and door ways including patio doors. Vertical blinds made from fabric will provide insulation from chilly winds and hot sun rays while also offering noise reduction properties.
Shutters
Window Shutters: These consist of either fixed or louvered slats that are often made from plastic or wood. Window shutters are fitted with hinges which makes it possible to either open or close the shutters and regulate the intensity of sunlight entering your home. Window shutters may be used for both the interior and exterior of a building. But ultimately provide security, privacy, protection from the elements, and aesthetics to your home.
Shades
Roman shades give a more sophisticated look to your window than blinds. They are made of functional fabric panels. They bring beauty to your window as they transform the look and feel of your room. They can be made to fit inside the window frame, on the frame, or outside the window frame.
Woven Wood Shades: These exotic shades go by other names such as: matchstick shades or bamboo curtains. Woven wood shades offer your home an informal appearance with natural aesthetic colors. Woven wood shades are great for bedrooms and studies to provide minimal or zero light to your room during the day.
Soft Window Treatment Options
With soft window treatments you have options that are made from or designed with soft natural and synthetic materials including fabrics. These window coverings include drapes, curtains, sheers, roman and roller shades.
Drapes and Curtains: Drapes and curtains are made from fabrics which are sewn into window coverings to provide protection from the elements while also beautifying your home. Drapery can be casual or formal looking. They can also be very sophisticated, classy, and elegant. You can get drapes or curtains in a number of different materials, colors, patterns, shapes, weight, and sizes. Many drapes and curtains offer noise reduction, high cleanability, and fire resistance properties. And you can adjust drapes or curtains using a remote control, a press-button pad, a cord or simply by hand. Sheers: Sheers or otherwise called net curtains are soft window coverings designed from sheer or translucent fabric. You basically have three types of fabric that are used in making sheers.
Roller and Roman Shades: Roller shades are made from conventional fabrics that come in different textures, styles, and colors. Also known as roll up shades, these soft window treatment option is very easy to use and maintain. They also provide great dynamism and functionality. Roman shades are made from different fabrics, wood, and even bamboo. When roman shades are raised they fold up into horizontal pleats like Venetian blinds. Roman shades equally provide insulation from the elements and can be opened or closed with the use of a cord control.
Layered Window Treatments
Layered window dressings are a combination of both hard and soft window coverings. Panel Tracks and Shoji Panels can be referred to as layered window treatment options.
Panel Tracks: These window coverings are otherwise known as sliding window panels. They are stylish, simplistic and dynamic in nature and made from a variety of hard or soft materials. Sliding window panels are set suited for sliding doors and great for picture windows.
Shoji Panels: These are Japanese styled window dressings made from either bamboo or wood. They have fixed slates or come with flexible slats that are made out of luminous rice paper. This material allows sunlight to pass through the slates with ease to illuminate your room with cool, soft light during the day.
Why Are Window Treatments Important To Your Home?
The importance of windows to your home cannot be understated. Windows are a source for ventilation allowing fresh air from outside into your home while also ensuring that hot air or steam have a way out of your home.
Windows add to the beauty of your home. They allow you to view visitors to the front of your house while also providing an avenue for observing the scenic landscape of your backyard garden.
Window treatments compliment your home decor and help to highlight the size and shape of your windows. But apart from the obvious decorative function of window coverings, they are also important for the following reasons.
For controlling indoor temperature: Using drapes can help in reducing the heat from direct sunlight or the cold from strong winds into your home. This is one function of window coverings that cannot be ignored.
You can effectively regulate the temperature in your home which can provide you with energy saving benefits as well. Having bedroom drapes can help keep your bedroom warm during cold nights. You can also open your window covering to allows fresh air indoors during warm nights.
For controlling interior light: If you want to regulate the amount of light coming into your home during the day, you can get Venetian blinds or blackout drapes that will shield your home from direct sunlight. However, if you want some amount of light to come into your, then sheer curtains work like a charm.
For improved privacy: You can improve your privacy with the use of a window treatment option. While tinted window panes may help to prevent people from outside peering into your home through the windows - blinds, curtains, and drapes are a cost effective way of reducing visibility into your home and improving privacy.
For decorative reasons: You can compliment the furniture and enhance the overall aesthetic value of your home by choosing the right window treatment option. Window coverings are available in different colors that can match-up with sofas, walls, flooring and any other furnishing that makes up your home decor.
Tips For Buying Window Treatments
It can be difficult knowing where to start when it comes to buying the best window covering for your home. However, you can make the right choice if you follow the tips below:
How to Measure for Curtains and Blinds?
The first thing to do before buying any window covering is to measure out your window. But the way you take measurements for curtains is different from the way you measure for blinds.
Here's how to measure for both window treatment options:
Measuring for curtains: Get the following tools before measuring for curtains.
A step ladder,
Flexible metal measuring tape,
Writing pad, and
Pencil.
Once you have these tools with you, you can begin measuring each window in your home that you intend covering with curtains by doing the following;
Measure out the width of each window including any space outside the window pane that you want the curtain to effectively cover.
Ideally, measure out about 15 centimeters on either side from the window's vertical edges. This will make the curtain at least 30 centimeters wider than the window frame.
Where you have installed a curtain rod at the top of a window frame, your width measurement for the curtain should run from one end of the decorative rod to the other end.
You then have to obtain the height measurement. This is done by measuring from the top of your window frame down to a length that is below the bottom horizontal edge (window sill) of your window frame.
Measuring for blinds: Typically, blinds can either be mounted so that it is projected some distance from the window frame or hanging just inside the frame.
What Do You Need Window Treatment For?
Before you buy any window treatment option you need to ask yourself the question of 'what do I need the window covering for?' Do you want a decorative curtain that beautifies your home?
What color of window dressings do you need?
Are you sensitive to light and need blackout curtains that shields you from sunlight during the day?
Do you want completely privacy?
Do you want to be able to control the temperature in your want home?
What is your budget?
These questions need to be answered before you shell out money for any window dressing. Once you are totally clear on what you want, you can then take the next step and find out where you can buy good quality window treatments that satisfy your needs.
Closing
There are different types of window dressing options to choose from. You only need to know what is best for your home. You also need to know what your window covering needs are before you go our in search of window coverings.
You can choose from a variety of soft, hard or layered window dressings after you measure out your window frames. If you want the best quality draperies, velvet curtains, bamboo curtains, Isabella curtains, Liz curtains, outdoor curtains, and so on.
You can visit TWOPAGES Curtains today and chat with one of our seasoned home decor professionals to help provide window covering options that will meet your specific needs.
Read More
---